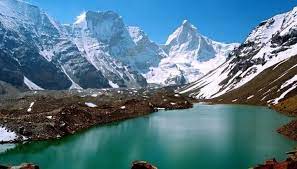 About Sapt-kund:-
· SaptKund is a group of seven high-altitude lakes perched at an elevation of 5,000 mts in the Chamoli district of Uttarakhand. The lakes reside on the base of the majestic Nanda Ghunti peak and are considered sacred by the Hindus. SaptKund Trek is a lesser known trek in the Himalayas and is a challenging one
Tour Itinerary
Day 1: Arrival at Nandprayag – Ramni village
· Arrival at Ramni village (trek start point). Get briefed by our trek leader or guide. Night stay.
Day 2: Ramni Village – Patharkuni
· The trek from Ghuni Village to Patharkuni follows a gradual to steep ascents. You will come across beautiful camp sites and set up your camp at the scenic location of Patharkuni. You will see the majestic Chaukhamba and Trishul peaks from here.
· The route to Patharkuni goes through gradual to steep ascents and you will be accompanied by the snow-clad Himalayas.
Day 3: Patharkuni – Simbe Bugyal
· The destination of Day 3, SimbeBugyal is one of the best camping sites of this trek. SimbeBugyal is a beautiful meadow covered with a wide variety of colourful Himalayan flowers. If you are lucky enough and visit the bugyal during the right season, you will witness the flowers sprawling across the meadow in full bloom.
Day 4: SimbeBugyal – SaptKund – Simbe Buggyal - Patharkuni
· Today you will trek towards the mysterious SaptKund and then return back to your camp. Located at an elevation of 5,000 m, SaptKund is a group of seven lakes residing on the base of Nandaghunti peak. The lake offers one of the most pristine and calming views and makes all your effort of reaching their worth it. After exploring the lake area, you will begin your descent to the campsite.
· You will start your return journey to Patharkuni consisting of pleasant walks and descents.
Day 5: Patharkuni – Peri - Nandprayag
· You will take a different route and trek towards Peri Village. You can choose to return through the Ghuni Village route too.
· After reaching Peri village, enjoy your ride towards Nandprayag, you will easily get jeeps from Peri village
· Our Trek service will end at Peri Village
Things To Carry:-
· Rain cover
· Warm clothes
· Caps
· Toilet paper & wipes
· Back pack (50-60l)
· Water bottle
· Fleece jackets and thermals
· Hiking shoes
· Led torch (with extra batteries)
· Mosquito & insect repellent
· Thermal inners
Package Inclusions:-
· Accommodation (arrival to departure day)
· Breakfast, Lunch/Packed lunch, Dinner
· Complementary tea and snacks
· Trek fee, entry fee, Guide service
· Camping equipment (Kitchen tent / camps / sleeping bag)
Package Exclusions:-
· Any sort of transportation, Insurance
· Food during the road transit
· Any kind of personal expenses.
· Personal equipments : axe, trekking pole, crampon
· Mules or porter to carry personal luggage.
· Anything not mentioned in inclusions
Cancellation Policy:-
· Within 15 days of Arrival Date/ No Show: No Refund
· 15 Days to 30 Days prior to Arrival: 50% of the total package cost.
· 30 Days & More: 10% of package cost (and taxes are not refunded in any case)
· Note: No refunds in case of Road Blocks, Accidents, etc
Extras:-
· INR 1,000/- Per Person for an extra day
· Non veg meals will be cooked on demand with additional cost
· Everyone have to carry their own bag