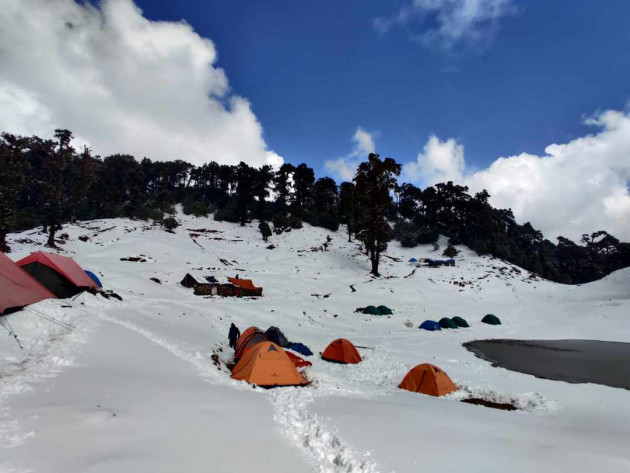 Dear Sir/Madam NAMSKAR !!!
Greeting from GET TRIP HOLIDAYS
- DEHRADUN!!!!!!!!!!!!!!!!!!!!!!
Find the tour cost information as per below mail
TOTAL COST OF PACKAGE
TYPE OF VEHICLES
TOURIST
STD./ MAP. Basic
Total Cost
DZIRE OR SUV
12,000/person
Ropeway Charges 750-850 per person (Not Included)
Accommodation Provided at :-
Destination
Night
Standard Hotel
Joshimath
02
Hotel Sailja or Similar
Auli
02
Hotel GMVN or Similar
Chopta
02
Hotel Neelkhant or Similar
Rishikesh
01
Hotel Lilly or Similar
The above tour costs are inclusive of:-
= Hotel accommodation DBL Room
= Transportation by A/C Vehicle (AC & Music System in Vehicle will not be operated when we are on the hilly area.) according your tour plan at your disposal with driver as per the tour programmed.
= Fuel, parking, toll taxes, Interstate taxes, permit, driver allowance, & night halt charges.
= Morning tea Breakfast, Dinner on MAP Plan (08 Breakfast ,08 Dinners included)
= All taxes
-----------------------------------
The above tour cost does not includes:-
= GST Extra 5.00 %
= RRopeway Ticket for Auli
= Damages/ claims of any kind, Expenses of personal nature like telephone calls, laundry bill etc.
= Table drinks, laundry, porter, pony, tips, camera fee, ropeway charges, entrance charges, travel insurance, personal expenses of the clients or any other expenses incurred due to bad weather, road closure, landslides etc. and anything not specified in cost include.
= Any other services note mentioned above.
--------------------------------------------
Day 01 : Dehradun – Joshimath ( 300 kms- 9-10 hrs )
Early morning leave or Joshimath, pit stop at Devpryag- Witness the beautiful Sangam of Bhagirathi & Alaknanda.
Lunch stop at Srinagar.
Reach by evening & check in to the Hotel.
Freshen Up & relax.
Evening tea and snacks, dinner & sleep overnight.
Day 02: Joshimath to Auli (14 kms. 1.30 – 2 hrs)
Wake up early & witness the beautiful Sunrise.
Have breakfast as included in package.
Start your journey to Auli
You can either go by ropeway or road.
Enjoy the panoramic ice-covered view & enjoy skiing.
Come back to the Hotel by evening, dinner & sleep overnight.
Day 03: Auli to Gorson Bugyal Trek (2.5 kms 2 – 3 hrs)
Have breakfast as included in package.
Trek to Gorson Bugyal.
Come back to the Hotel by evening, dinner & sleep overnight.
Day 04: Auli to Joshimath (local Sightseen)
Wke up lazy morning and after having breakfast, move for local sightseen Narsing Mandir, Amar Kalp vriksh.
Come back to the Hotel b evening, dinner & sleep overnight.
Joshimath is situated on the slopes above the confluence of Alaknanda and Dhauliganga. Of the four 'Maths' established by AdiShankaracharya, Joshimath is in the Badrinath to Joshimath and installed in the temple for people to worship. There are many temples in the township most important is the temple of Nir Singh in commotion of Lord Vishnu. The left arm of this deity is with time and the popular belief holds that the day the the arm completely withers Badrinath valley will cease to exist and the Gods will transfer the residence into the neighboring Niti Valley at BhavishyaBadri. Joshimath is connected by regular bus service to Rishikesh, Haridwar, Badrinath and many other centres in the region.
Day 05: Joshimath to Chopta ( 110 kms. 5 – 6 hrs)
After breakfast at the Hotel you will move for Chopta.
Arrive at Chopta.
Enjoy the evening tea with snacks, followed by dinner in Chopta Night stay in Chopta.
Day 06: Trek to Tungnath & Chandrashila ( 5km 3 – 4 hrs)
After breakfast we will reach the trekking point in Chopta and start the trek. Reach Tungnath Temple and enjoy your packed Lunch. You can now trek to Chandrashila (4000 mts) and return back to Chopta, relax and enjoy the evening at Chopta. Dinner and overnight stay in Chopta.
Day 07: Chopta to Rishikesh (200kms. 8 – 9 hrs)
After breakfast at the Hotel you will move for Rishikesh.
Arrive at Rishikesh.
Enjoy the evening in cafe's tea with snacks, followed by dinner in Rishikesh Night stay in Rishikesh.
Day 08: Rishikesh (Local Sightseen) and drop at Dehrdun
Here you may opt to enjoy some adventure activities like River rafting, etc. on own. take an excursion to Rishikesh. The 'place of sages' is a celebrated spiritual town on the bank of Ganga and is surrounded by Shivalik range of the Himalayas on three sides. It is said that when Raibhya Rishi did hard penances, God appeared by the name of " Hrishikesh " and this area hence firth came to be known as Rishikesh. Later visit Rishikesh Temples & Sight Seeing – LaxmanJhulla, Ram Jhulla, Bharat Mandir, Shivananda Ashram, Parmarth Ashram.
Rishikesh : Upstream on the banks of the Ganga where it is met by the Chandrabhaga is the holy town of Rishikesh. Literally, Rishi's (holy man) locks, this small town is the point where the holy Ganges crashes down in full glory onto huge boulders and creates long stretches of white sandy beaches. The banks are lined with ashrams, where saints and holy men rested before beginning their arduous pilgrimage up into the snow-covered land of the gods. Rishikesh is essentially a combination of five different districts- Rishikesh the commercial centre, Muni-ki-reti in the quiet suburbs, Shivananda Nagar to the north, Lakshmanjhula with its holy shrines and Swarg Ashram where most of the ashrams are located.
Swarg Ashram, with its numerous ashrams, food stalls and shops is a haunt for those looking for insights into religious themes. The newly constructed Ram Jhoola straddles the Ganga at this point. You can also make a river crossing on the ferries that run during the day. Important shrines and ashrams at Swarg Ashram include Kali Kumbliwale founded by Swami Vishudhananda, ParmarthNiketan with large statues of gods and goddesses and the Gita Bhavan with its Ayurvedic dispensary and shop selling religious books and cotton Khadi.
About 2 kms upstream is the old footbridge called Lakshmanjhula, named after the brother of Lord Rama. Temples line both sides of the river at Lakshmanjhula.
To the northeast is the area of Muni-ki-reti. Along the banks of the Chandrabhaga river, this area with its secluded white sand beaches is ideal for swimming. Boat rides on the river near Swarg Ashram are a pleasant diversion, and you can feed the fish that cluster around pilgrims throwing balls of wheat flour into the waters.
Assuring you the best of our cooperation and assistance at all times and look forward to your early reply on the above subject.
We also take this opportunity to hope that we work together for a mutually beneficial business association, and look forword for your support in the coming period.
We can not spell S_CCESS without 'U'
Thanking You in anticipation,
Yours truly,
For GET TRIP HOLIDAYS ®
Anuj Gupta
Head of Sales & Marketing